How to Paging in DataGridView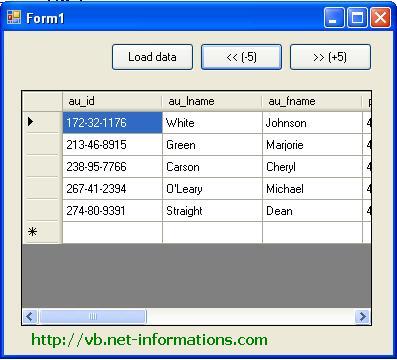 The DataGridView class allows customization of cells, rows, columns, and borders through the use of its properties . If a DataGridView has lot of rows then we can implement paging functionalities to the DataGridView control. While we implement paging we should know the boundaries of the pages to enable the paging in the DatagridView.
The following vb.net program provides a way to programmatically implement paging in a Windows Datagrid View control. Here the DataGridView rows fixed as five rows and other two buttons are there for implementing paging functionalities.
Imports System.Data.SqlClient
Public Class Form1
    Dim pagingAdapter As SqlDataAdapter
    Dim pagingDS As DataSet
    Dim scrollVal As Integer

    Private Sub Button1_Click(ByVal sender As System.Object, ByVal e As System.EventArgs) Handles Button1.Click
        Dim connectionString As String = "Data Source=.;Initial Catalog=pubs;Integrated Security=True"
        Dim sql As String = "SELECT * FROM authors"
        Dim connection As New SqlConnection(connectionString)
        pagingAdapter = New SqlDataAdapter(sql, connection)
        pagingDS = New DataSet()
        connection.Open()
        pagingAdapter.Fill(pagingDS, scrollVal, 5, "authors_table")
        connection.Close()
        DataGridView1.DataSource = pagingDS
        DataGridView1.DataMember = "authors_table"
    End Sub

    Private Sub button2_Click(ByVal sender As System.Object, ByVal e As System.EventArgs) Handles button2.Click
        scrollVal = scrollVal - 5
        If scrollVal <= 0 Then
            scrollVal = 0
        End If
        pagingDS.Clear()
        pagingAdapter.Fill(pagingDS, scrollVal, 5, "authors_table")
    End Sub

    Private Sub button3_Click(ByVal sender As System.Object, ByVal e As System.EventArgs) Handles button3.Click
        scrollVal = scrollVal + 5
        If scrollVal > 23 Then
            scrollVal = 18
        End If
        pagingDS.Clear()
        pagingAdapter.Fill(pagingDS, scrollVal, 5, "authors_table")
    End Sub
End Class