Without using Excel Object we can insert , edit , delete , select etc. in cell content of an Excel file using OLEDB in VB.NET . Here we are using OleDbConnection , OleDbDataAdapter , DataSet for doing these operations in an Excel file. You have to import System.Data in the project for doing these operations . For add new content in the cell or insert a new content , We can use the INSERT command like in SQL Operations.
sample UPDATE sql
sql = "Insert into [Sheet1$] (id,name) values('5','e')"
The follwoing picture shows before and after update of the Sheet.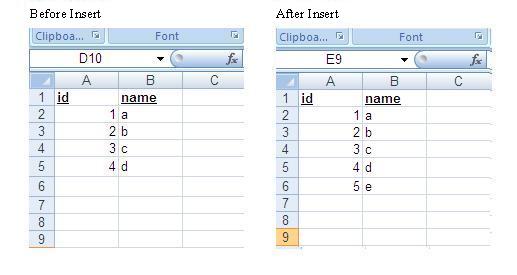 When you execute this source code the will insert a row in the Excel file.

Advertisement